The Faces of Gem: Get to Know Michelle Kardolus
February 17, 2017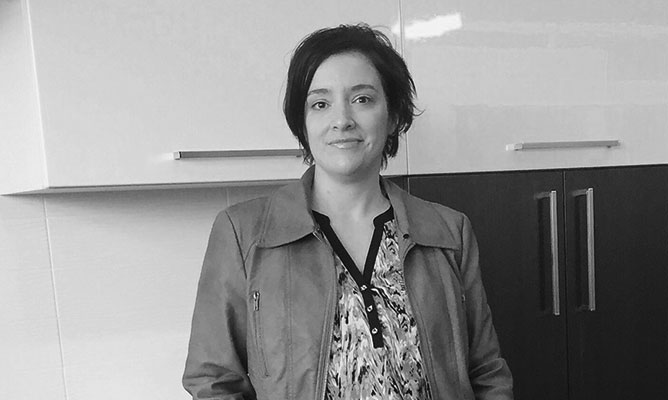 At Gem Cabinets we have a great reputation for designing and building beautiful kitchens and bathrooms but you might not know much about our amazing team. From our front desk and support staff, incredible designers, installers, managers and more – we want you to get to know the team that keeps Gem Cabinets running. Today, we want to start with one of our amazing account managers and designers, Michelle Kardolus.
Describe your role at Gem Cabinets, take us through a typical day
As an account manager and designer I ensure jobs flow smoothly. I meet with clients for color selections, measure, design and draft layouts, follow up on jobs and place orders for clients.
What do you love most about your job?
That every design and every job is different!
What is your favourite design style?
Contemporary/modern
How did you get into custom kitchen/bathroom cabinetry?
It was a total fluke! I was working at Rona and didn't want to work at the front desk so they put me in kitchens. I learned so much from my manager there and now almost 12 years later, I'm still designing kitchens!
What's your favourite YEG shop or restaurant?
Hardware Grill
If you could spend a week anywhere in the world, where would that be?
Egypt
What's one item on your bucket list?
To do a great white shark dive
Favourite food?
Nachos or perogies
Describe yourself in 3 words
Outgoing, adventurous, honest
Guilty pleasure?
Ice cream!
What's a weird skill you have?
I am legit a ninja! 😉
What's the most interesting/obscure thing you carry in your purse or car?
Knee wraps for weight lifting
Favourite quote?
"Life begins at the end of your comfort zone"
If you could try out any job for a day, what would you do?
Police officer
So there you go! Now you know all about our nacho eating, weight lifting, design ninja Michelle! Each month we'll highlight another member of the Gem team. Who would you like to see next?