Change of Season-ry
September 15, 2020
Season-ry may not be an actual word but maybe we can start a new trend. With the change of seasons we often want to change up our scenery, hence, we bring you Season-ry. Fall is on its way with more and more leaves falling each day. You can layer in a few pumpkins of every color you can find. You can add a fall-scented candle, a vase filled with an arrangement of real or faux flowers. Pull out that beautiful bowl, dish or even a serving tray you normally keep stored. Use one of these items to create a centerpiece fill with fall-inspired elements. Have a look below for some inspiring ideas on decorating your home for the fall season.
Tables are easily the go to spot to set up a display. Place some jars with an assortment of pumpkins and don't stress. You can go more extravagant with gigantic centerpieces or keep it simple.
If you have a fireplace it is probably already a focal point so spruce it up with the autumn decor. Play with different heights. High jars, low jars, big and small pumpkins. The more variety the more intriguing to the eyes.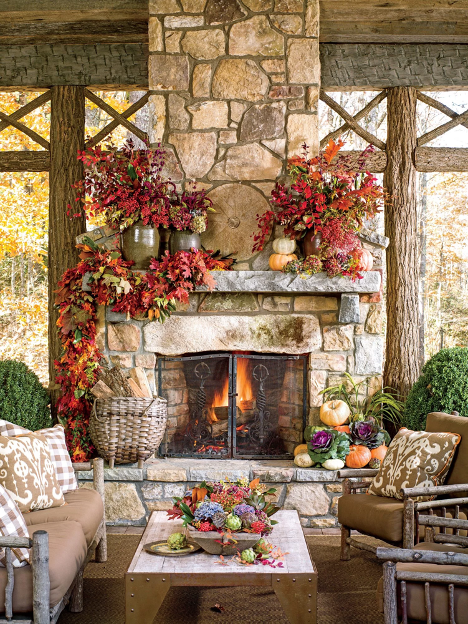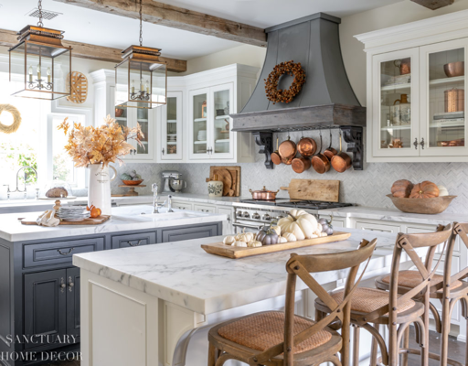 Don't forget you still need to be able to use the space.  This kitchen is a wow all the time of the year so don't silence it with too much decoration.  Let it speak for itself.
1
|
2
|
3