3 Tips For An Organized Laundry Room
July 17, 2016
At Gem, we offer millwork and cabinetry for more than just kitchens. When creating a stylish and functional home, organization is key. This is especially true when it comes to the laundry room. While the kitchen is often referred to as the hub of the home, the laundry room is also an active area of high use. These are a three of our "essentials" when it comes to designing the ultimate laundry space.
Drying Bar
Whether you have enough space for a hanging drying bar or need to find a smaller space solution such as a fold down drying rack, having a stationary drying solution is incredibly useful. Sure those portable drying racks are handy but realistically, they get left out, can be bulky and become a permanent storage for miscellaneous items that don't get put away. Avoid this over clutter with a bar hung in your laundry room or a pull out or fold down option.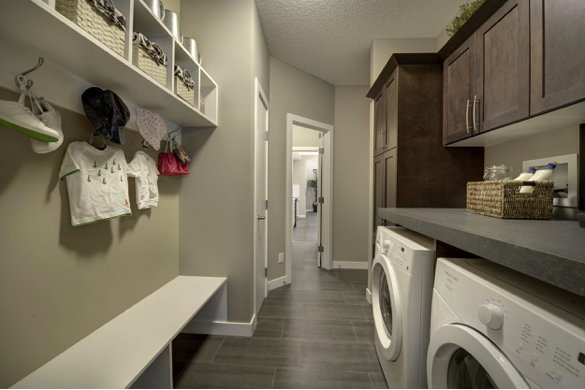 Smart Storage
This one sounds like a no brainer but storage is so important to maintaining an organized laundry room. Floating shelves with baskets are a great low cost solution to hide cleaning and laundry supplies. If your space allows, cabinetry or open cubby shelving with hooks below are great ways to keep your clothes and laundry room necessities organized and clutter tucked away.
Flat Work Surface
Our last key element to a highly organized laundry room is to have a flat work surface. Tough stain removal prep, minor clothes repairs and folding laundry are all easiest on a flat surface. By adding countertop on top of your washer and dryer you can create a work surface perfect for a highly functional laundry room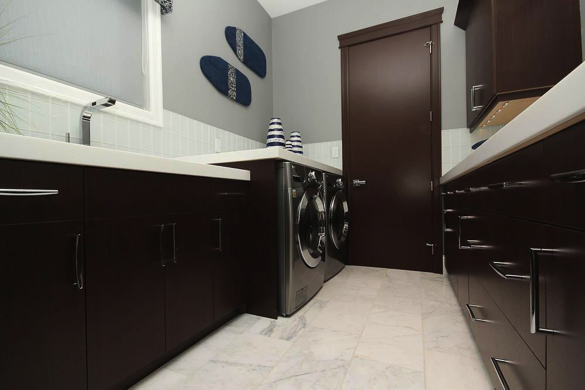 If you're considering a renovation project, or building a new home, consider coming by to speak to one of our qualified design professionals!