Bring on the Trends – Spring, 2023
April 26, 2023
We have been seeing a lot of new and exciting designs lately while scrolling our feed for inspiration. It would seem that folks are leaving the well trodden alternatives behind and opting instead for fresh and current colour choices, particularly in their cabinetry!
With more options presenting themselves for countertops, backsplash tiles and finishes, there are more opportunities to select unique and colourful cabinetry options that are up to date and still timeless.
Here are some of the trends that we are currently seeing:
Taupe and Wood Cabinets- Step aside white, there's a new neutral on the block! We are seeing more and more designers replacing the old tried and true white with more taupe and wood tones. These tones go a long way towards adding warmth, and mixing both can give a kitchen incredible dimension.
Pictured at the beginning of this article, from Sarasota Homes.
And if you're stuck on white for your future dream kitchen, we'd suggest opting for a warmer white to give your kitchen a more inviting feel.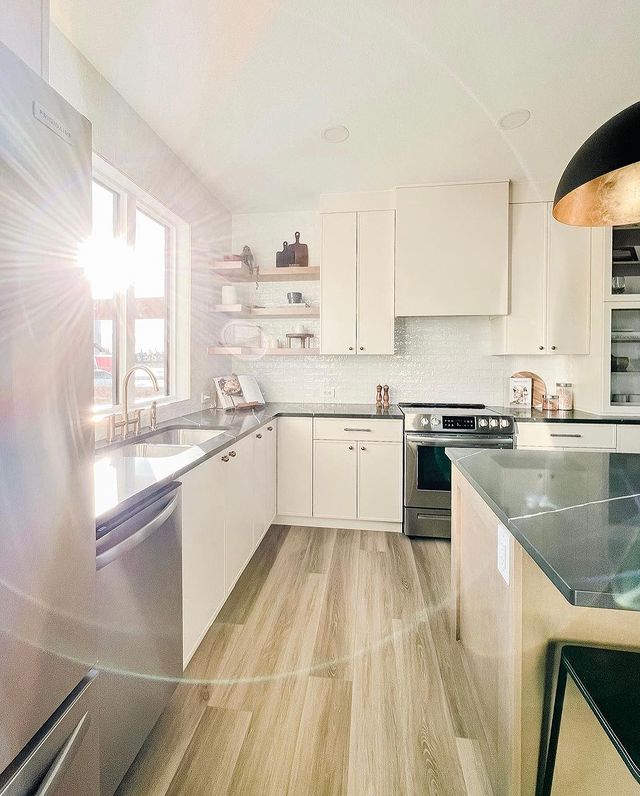 Pictured above, from Jensen Lakes: Sarasota Homes.
Black Cabinets- Black continues to be a trend that adds dimension and interest to a kitchen, when used sparingly. We love a black island in a kitchen with warm white cabinetry.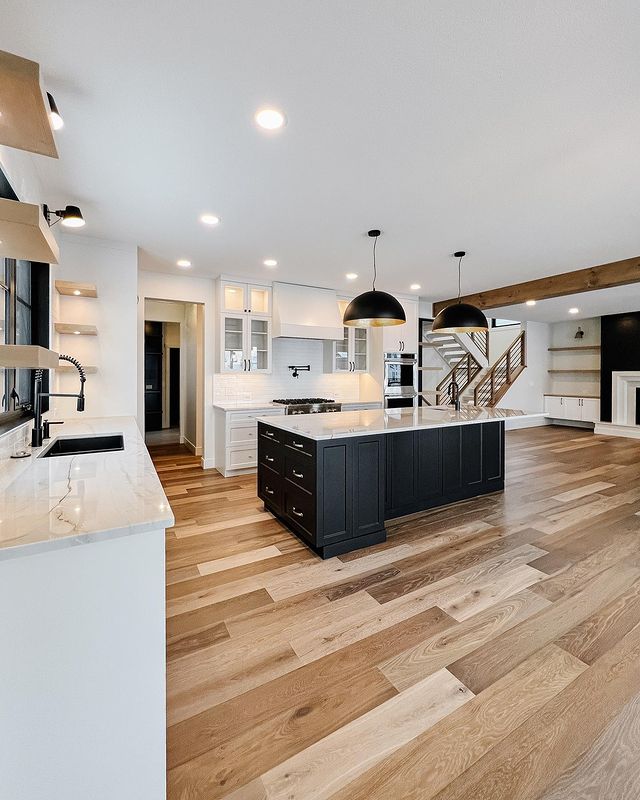 Pictured above, from Jubilation Drive: Sarasota Homes
Though some bolder designs feature all black, and do it beautifully.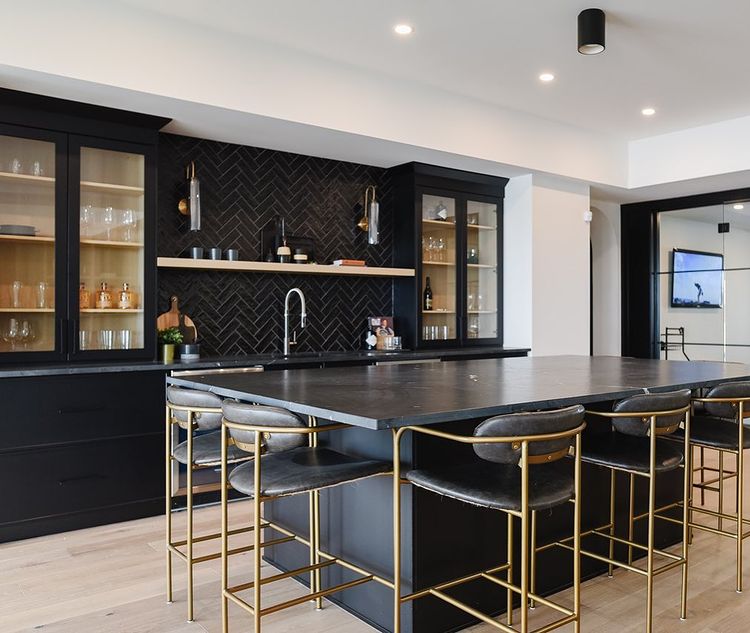 Pictured above, from Jensen Lakes: Sarasota Homes
Dual- tone Cabinets- Seeing as we've already spoken about mixed taupe and wood tones and mixed white and black tones we are absolutely on board with all of the dual-toned kitchen cabinetry we are seeing! It is such an easy way to make your kitchen stand out, while still remaining classic.
Here's a design using wood and white dual-toned cabinetry. And we love how they've used black finishes to make it all feel current.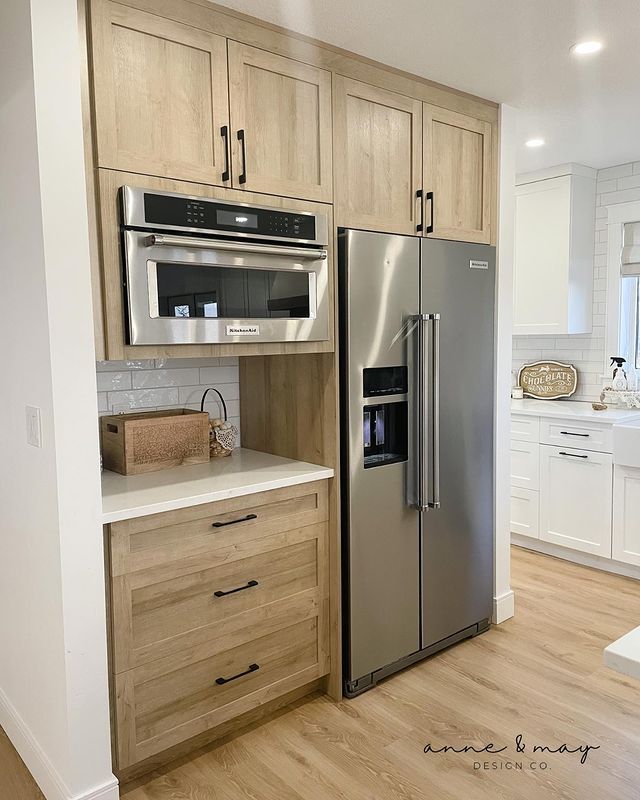 Pictured above, from Anne May Design Co.
Dark Blue Cabinets- Blue is very of the moment, and has been for a couple of years. What we are seeing in 2023 is more up to date dark blues, and navy tones. These rich, darker shades are ideal for making hardware and other kitchen finishes pop.
We love how the gold finishes stand out against the richness of the blue cabinetry from Cabico in this kitchen.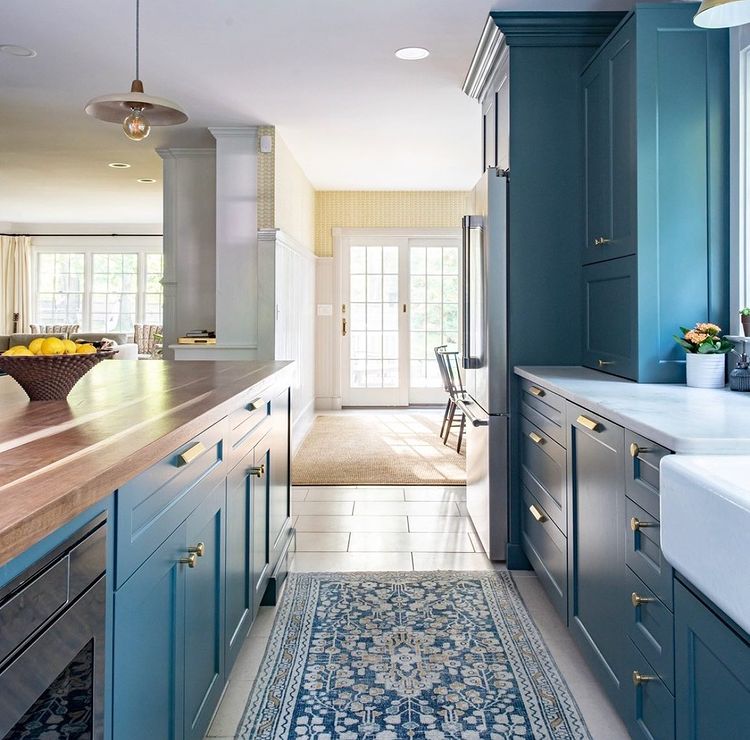 Pictured above, from Cabico Cabinetry, Meghan Shadrick Interiors, Cypress Design Co.
We hope you're feeling as inspired and refreshed after brushing up on this season's design trends- we are seeing a lot of really sophisticated new ideas that will undoubtedly be around for years to come!
And if you're looking to dive deeper into cabinetry colours and finishes for your future kitchen, feel free to book a design consultation by visiting our Contact page.