Cozy Kitchens
October 26, 2017
Your kitchen should be a happy place; a place where you enjoy cooking, baking, and yes.. even cleaning.
With the cooler months ahead, we're going to take you through some cozy kitchen layouts, and give you some tips on how to make your kitchen a comfortable and homey place to be.
Tip 1: Have ample lighting
Natural lighting in your kitchen is wonderful, but when night comes, you need ample lighting to keep nights in the kitchen comfortable. High, soft lighting will help create a welcoming, homey feeling. Layer your lighting with ample overhead, above island pendants and under cabinet lighting so you have lots of options for every lighting need.
Tip 2: Think walnut
Natural woods are wonderful for creating a comfortable, cozy feeling in your kitchen. Walnut is a warm wood that will liven up your kitchen while keeping it welcoming and intimate. Walnut is often thought of as a very modern finish but with a more traditional or transitional cabinet front, the look can be quite cozy and even traditional. Walnut is available in any style! Give it a try.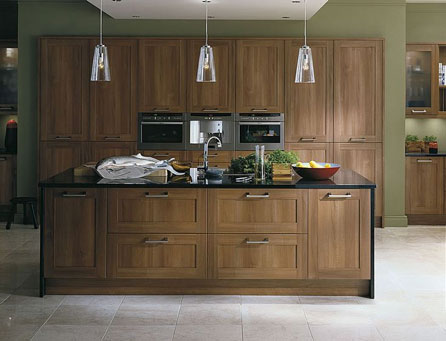 Tip 3: Choose open shelving
Open shelving not only opens up your kitchen, it also gives it a more relaxed feel. Open concepts are fantastic for easy accessibility, simplicity, and ensuring your kitchen is only ever filled with necessities. You might remember from here that we're big fans of open upper shelving.