Hidden Treasures
November 23, 2022
Here are a collection of ideas to help inspire you to achieve a minimalistic empty countertop dream.
Built-in's
Having things built-in is going to give you a minimalist look as well as give you tiny slivers of more space in some cases. In this kitchen we have the built in range which is going to give you a tiny bit more frame space around the oven. Built-in doesn't only have to do with appliances but pantries with built in storage like this kitchen absolutely has. Even tiny details like what could be a hot water dispenser or filtered water faucet by the sink can be solidly drilled in and help clean up clutter from say a soda stream or a kettle being left out. I would even like to see maybe a soap dispenser.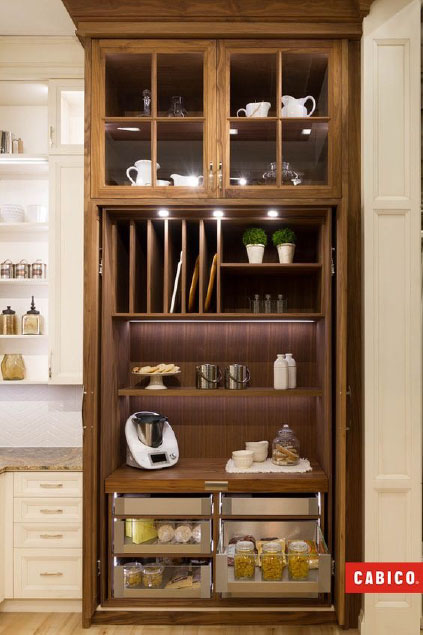 Pantry Perfect
Perfect example of what you might see in that kitchen above. Build a place to hide anything that would be on the countertop and then some. I know plenty of people who leave their "boards" out and keep well organised things on top so it's not duplicating the wasted space. In this case just build a space for it. Have a kettle, mixer, coffee maker, anything electrical that can be an eyesore.. Throw it in the perfectly built, custom sized, fit everything pantry extravaganza.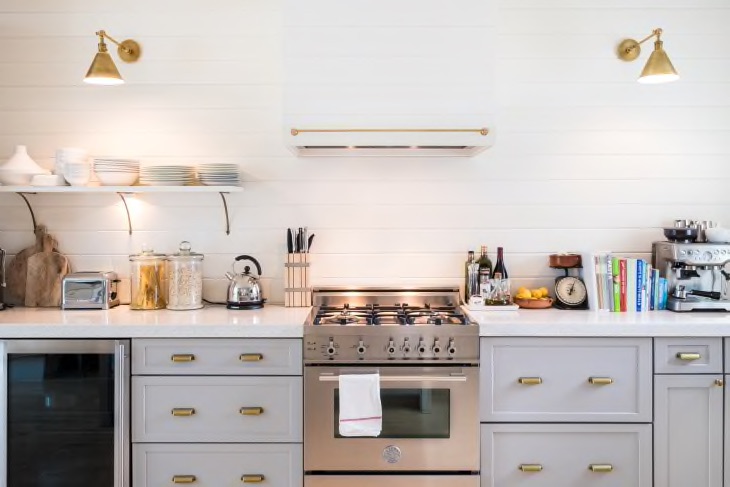 Drawers
If you are building or renovating we would suggest drawers, for better storage management, which in turn will help you keep things off the counter and into easy to reach manageable spaces. When we say manageable spaces, to get that vary the sizes of drawers, you don't want every drawer to be able to fit just spatulas, or the pickling pot. Vary the sizes to your needs. If you want to keep the doors you have or prefer doors for your design go for pull-out drawers inside the door to utilise that space just like a drawer would.
We tend to lean towards that zero clutter style, paired with efficiency and ease. For us we have a little tray for salt, pepper, butter and a few essential tools. Other than that, that is all we have on our counter. We do have a minifridge/coffee area next to the "kitchen" workspace, yet again keeping the clutter contained can be a key if you're into that.
Find what works for you and your level of minimalist empty countertops. Reach out to us for more ideas, and help to make it a reality.
1
|
2
|
3