Colours of Fall
November 1, 2022
One of the things we love to do is to find a picture for colour inspiration. Above is a picture of Edmonton in the fall. What we then do to the picture is pull colours that nature has given us to make a colour palette. We used to get out our paint swatches and start assembling a collage but now with technology there is an amazing website to help with this that not many people know about. It is coolors.co.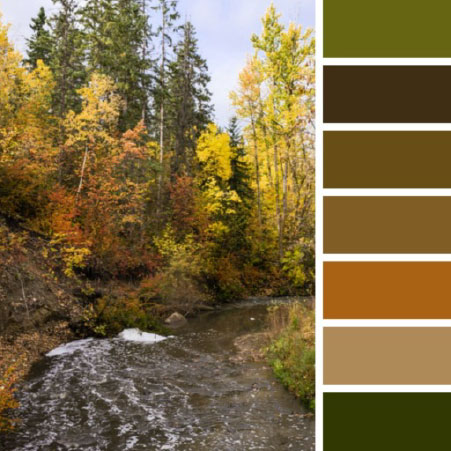 This is one that we created with this picture. So now without googling trends or fall colours you can actually just do it yourself. We've picked 7 colours with this palette because we wanted to show you the range of colours in just one photo. Maybe you are looking for a simple 3 or 4 colour collage. With all that in mind lets then look for some examples of our inspiration.
Just like that we've got a lot of similar colours from our nature picture in this moss kitchen. The woods are pulling from the reds and orange colour profiles. Using white & grey tones to balance out the colours, allows the space to breathe.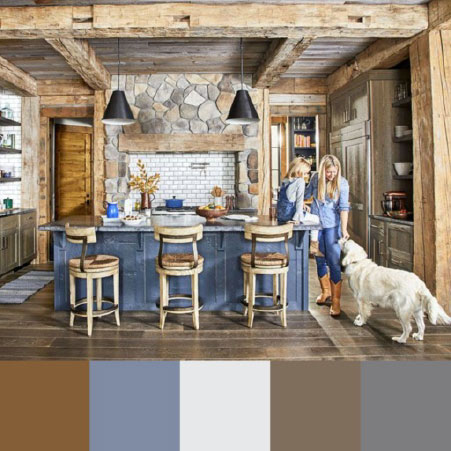 Going a little further from the inspiration is this weathered looking blue island. Maybe if the creek was deeper we would get a blue colour from the picture but hey, there are no rules here, just guidelines. But taking the dirt colour of the earth and the orange and red from the trees, and the white/grey from the water, is just a reminder that nature is beautiful.
What are your favourite colours of fall? What is your inspiration? What palettes can you make? With the weather being so good for so long right now, we recommend getting outside to touch, smell and see the colours yourselves.
1
|
2