Kitchen Storage Solutions
March 15, 2021
Getting organized in your kitchen can seem like a daunting task, thankfully we have four cabinet organization solutions that will make organizing your kitchen easier.
Full Extension Soft Close with Pull Outs
You'll want these on anything it comes out of your cabinet. If it has doors consider adding drawers, slide out trays or any pull out. Being able to pull it all the way out saves you from hunching down to see if there is anything left in the back of the dimly lit drawer.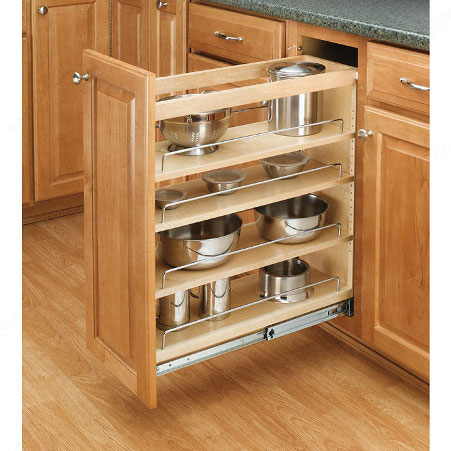 Tip Outs
Depending on your sink cabinet you can add tip out trays to the small panel. These are great ways to make use of the small space that otherwise would be unused. It makes it easy to store all those small dishwashing helpers like sponges, and scrapers.
Tray Dividers
Vertical dividers can instantly declutter baking trays and cutting boards. Never worry about an avalanche of cookie sheets again. You can put them in tall skinny base cabinets or our personal favorite is in the cabinet above the fridge.
Wine Racks
If you like to have many bottles of wine on hand at any given moment we did a whole blog a while ago about Wine Storage Options.
For any problem there are solutions. What works for you? What have you found to be your favorite storage space saver?
1
|
2
|
3