Easter Pastel
March 30, 2021
With the end of March and start of April brings the holiday of Easter. Whether religious or not there are always activities that remind us of being children. Painting eggs, hiding eggs, eating chocolate eggs. With the thoughts of eggs for us reminds us of a color palette of pastel. The soft white tint and shade of colors. They are fun, both in the joy and warmth that they bring but also in how to use them in a design. Here are some of our favorite pastel spaces to spark some joy for you.
Pastels go really well with neutral colors as well as natural materials. Wood, stone, etc. all go really well with the soft manufactured look of pastel.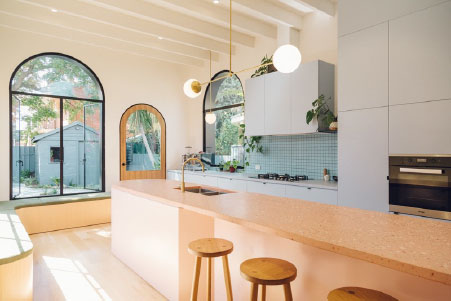 This kitchen reminds me of an ice cream shop here in Edmonton. Two pastel colors make this a cool, calm, collected vibe. The arching windows are an excellent touch.
So maybe pastel cabinets aren't your thing but you can still go dark cabinets with a modern minimalist door and bring the pastel into the accessories and wall.
Have a great weekend and Happy Easter!
1
|
2
|
3