Unique Backsplash Inspiration
September 14, 2017
Backsplashes are a great addition to kitchens, being both functional and fashionable. Before we show you some unique backsplash ideas, let's talk about why a backsplash is needed in the first place, and some tips to choose which is best for you.
So why do you need a backsplash?
Backsplashes can help save hassle in the future by protecting your walls from food, water, and grease.
Now, what material should you get?
Choosing material for your backsplash should be fun—experiment with different materials, and don't be afraid to try something new! Contrasting materials and colours can make for an exciting feature in your kitchen. There are so many material options ranging from tile, to brushed stainless steel, to brass. Try placing samples of various materials to your backsplash area to help you decide or, ask our designers for their input – we're always happy to help!
Now that you know what purpose a backsplash serves and how to choose, let's share some exciting ways people have incorporated backsplashes into their kitchens:
This incredibly unique stamped steel design is not only used as a backsplash, but also brought into other aspects of the kitchen, achieving a unique and beautiful industrial look.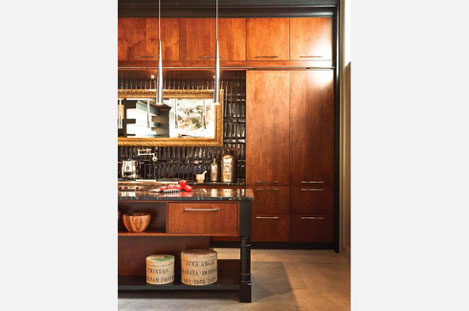 Glossy black tiles are luxe framing a gorgeous mirror. While the mirror may not be for everyone, you could always consider a tiled border. Don't be afraid to take risks!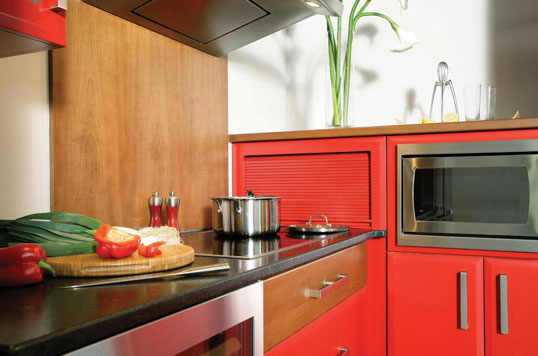 This beautiful and retro-type kitchen incorporates a warm wood backsplash, complementing their red cabinets nicely. We love the modern look of wood used this way and in a small feature, it manages to make a big design impact!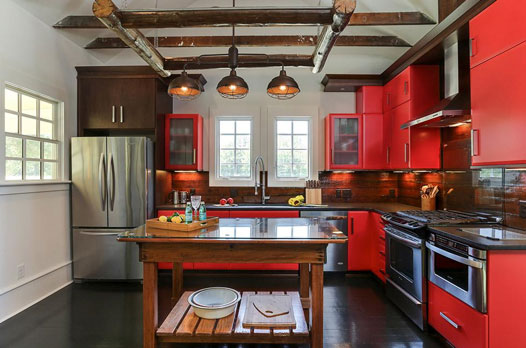 Another red kitchen, here they've incorporates a more rustic wood look, with a slight gloss. This rustic look paired with the more contemporary cabinetry makes for a beautiful look if you ask us!
We hope that these various backsplashes have helped get your creative juices flowing when choosing your next backsplash, and remember, have fun with it!