A Day of Design Excellence!
October 20, 2023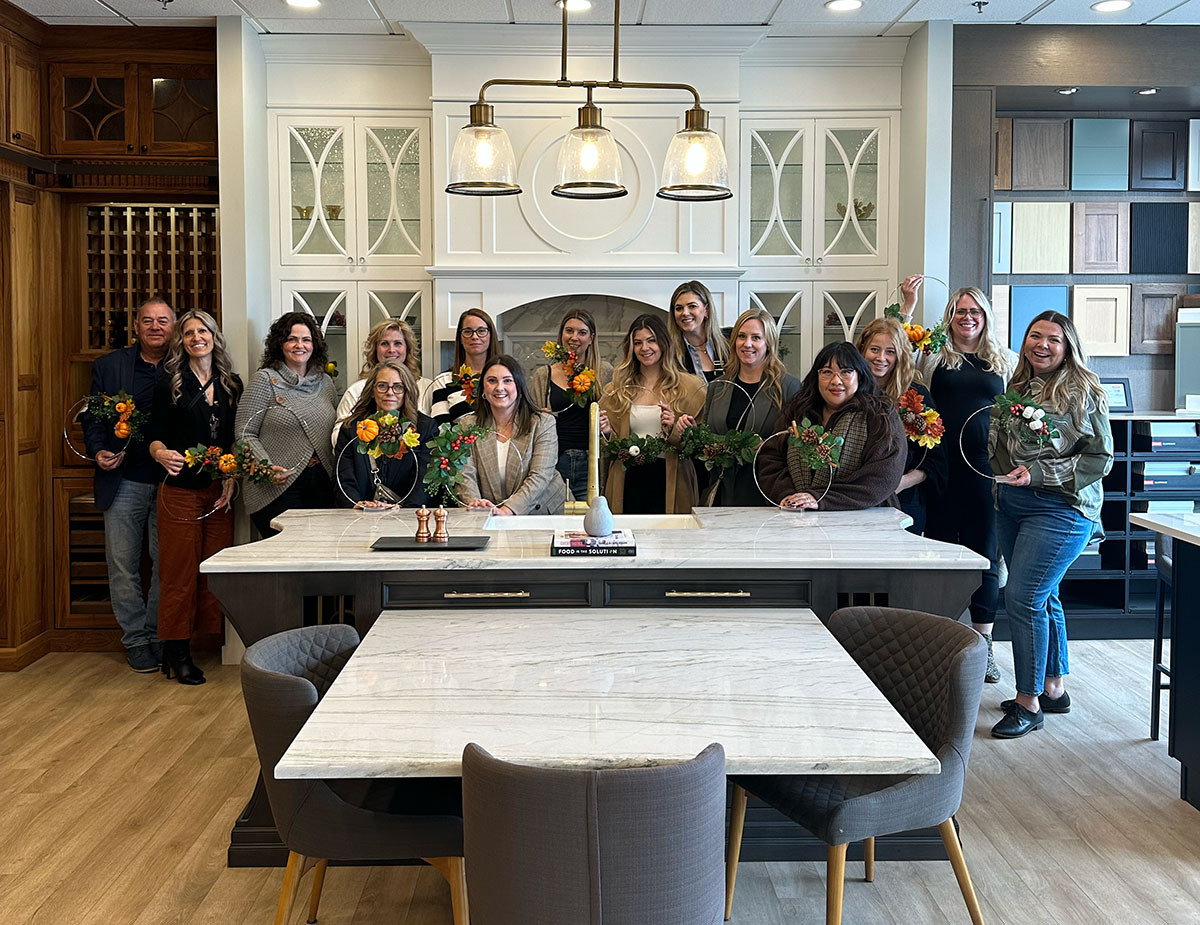 Edmonton is a city renowned for its vibrant design community, and we were thrilled to take part in another great event last week, welcoming enthusiasts and professionals alike to a day filled with inspiration and creativity!
The day kicked off at 9:30 am, and it was clear from the start that it was going to be a memorable one! Park Lighting & Furniture set the stage for our adventure with swag bags and a brunch & learn session.
The showroom at Park Lighting & Furniture was nothing short of spectacular! From stunning lighting fixtures to exquisite furniture pieces. Our time here had us all feeling inspired and brimming with ideas for upcoming projects.
Our next destination was none other than our showroom at Gem Cabinets, where we were truly ready to unleash our design creativity! The task at hand was to create a fun fall centerpiece, and we were blown away by all of the creativity demonstrated!
Our showroom became a haven for design enthusiasts. It was a chance to let our creativity flow while educating the attendees with the offerings exclusive to the Cabico and Elmwood showroom. And that wasn't all; the experience was elevated by the one-of-a-kind Galley Workstation where mocktails were served, adding a delightful twist to our creative journey!
The journey continued as we boarded the limo bus at 12:30 pm, headed for Garage Superstore. With a glass of wine and nibbles in hand, we were welcomed into the world of innovative storage solutions.
The Garage Superstore experience was enlightening, as we discovered an array of clever storage solutions. Their product info session offered insights into how these storage options could transform not just garages but various spaces in our homes.
The day was far from over as we boarded the limo bus once more, bound for Divine Flooring. Arriving at approximately 2:30 pm, we were welcomed to an afternoon of design exploration during Happy Hour.
The Divine Flooring showroom was a delight, showcasing the latest in flooring and wall tile finishings. Their product knowledge session was particularly insightful, shedding light on a variety of different flooring types that could impact future design projects.
As the day neared 4 pm, we headed back to where the adventure had begun, Park Lighting & Furniture. We were back at our parked vehicles, feeling inspired after a very full and informative day!
This day of design exploration was a testament to Edmonton's community, and the shared commitment to nurturing creativity and innovation within the design community.
We were grateful for a chance to learn, create, and connect with fellow design enthusiasts, and we look forward to more events like these in the future. Thanks to everyone who joined us last week!