Black Friday
November 30, 2020
With American Thanksgiving this past week, and for the rest of the world Black Friday, we thought it would be fun to share some inspiration with Black. There are a lot of ways to be uplifted by this dark intimidating color. Some of the options you have to choose from include matte to gloss finishes, and the different shades and tints of black.
Black kitchens tend to feel modern, even when your door style says traditional. If we were to say to you imagine a kitchen with herringbone tile backsplash, decor doors, crown moulding, black appliances, a butler's pantry, and didn't tell you the color you'd probably think it's pretty traditional. Maybe a dark stained wood is your first thought. That's why we think playing with color is awesome, and why it's a modern thought to see it in black.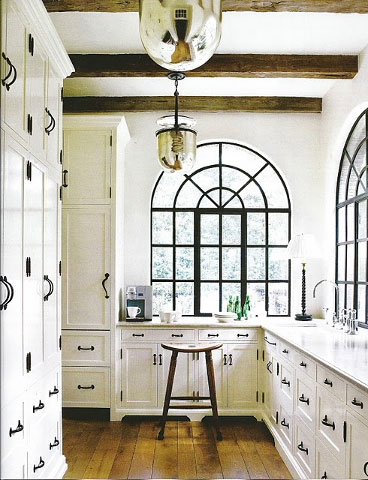 We've talked about it lots but how can we not bring it up when we talk about black. Black as an accent. From window frames or trims, to lighting fixtures, and of course hardware. We like how even the corner table lamp in the corner is black. Interesting to note that the sink faucet isn't black. Not everything has to be black, the chrome adds a nice touch of elegance and traditionalism in a place where if it was black would scream modern.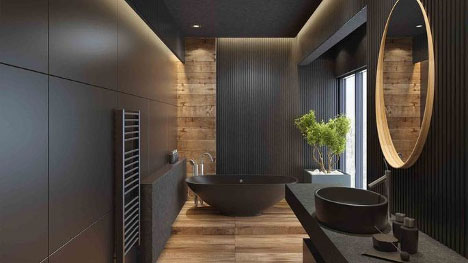 We could bathe in the glory of this bathroom all day. Pun intended! It is astonishing how big and open and light this black bathroom feels. The windows, green bonsai tree, height of the ceiling, and natural wood all combined to create that open feeling. The lighting is pretty minimal when you've got windows that large which again play to that openness. Never underestimate the power of plants, is forsure just one of the takeaways of this design.
No matter where you live, or when you celebrate thanksgiving we should be more thankful everyday. It doesn't always have to be the mushy lovey thankful either. Today we are thankful for Black and all the rest of the colors in our world.
1
|
2
|
3