Working from Home
November 13, 2020
Remember when homes used to have as many rooms as builders and designers could fit? Dining, living, kitchen, den, office, bathrooms, and bedrooms galore. Those might even only be on the main floor, not even thinking about the basement or upstairs. Slowly over the decades we have whittled it down to more open concepts and floor plans, because honestly who needs two dining rooms?! We all know one never gets used. Eventually we even got rid of the den, which had morphed into the "computer room". Well now that most people are working from home, and remotely we thought it would be wise to revisit this statement room, and how to update it for the times.
The old version of this room was almost always to the immediate right or left of the main entrance and greeting area at the front of the house. With large windows to watch who was driving on the street or coming up the driveway. Now I don't know where your room is going to be but one of the key things you want to take notice of is lighting. We would strongly recommend it be where you get lots of natural light. On top of that you will want to think about tasking lighting for whatever you are going to be doing. If it is model building, computer work, or reading they each may require their own unique lighting. You'll also want to make sure you have some ambient lighting to cover the room, you can use multiple sources to achieve coverage.
Everything from furniture, art, window coverings also need to be selected with the size of room taken into account. If it is large enough to have a desk on its own you'll still have decisions to make on what kind of space you want it to take up visually, whether that be with open legs or closed. A closed desk will make it feel way more heavy and large in the room. Compound that with a dark color scheme and it might be too much. Alternatively if it's a smaller space consider a desk against the wall and less heavy or large pieces.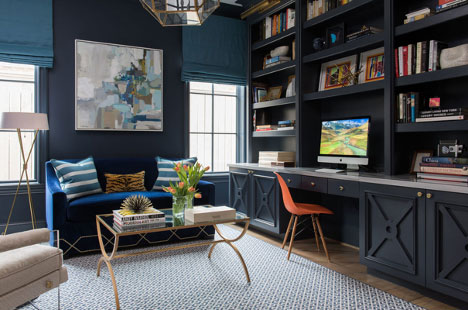 The ultimate work space of course can be done with well designed built in cabinetry. Designed to fit you and your room. Built in offices really cement the room, it gives it this impenetrable feeling and oftentimes a wow moment when you first step into the room. Most often the cabinets go right to the ceiling, and from wall to wall. A seamless bookshelf, desk, private storage all designed to be the right height, and width of what you need. Add in the choices of colors and finishing touches like crown moulding, furniture kick, hardware and countertops you can really make use of what this era has to offer.
Built in also doesn't have to mean grand library either. It can be as simple as some base cabinets and floating shelves. Minimal-ize it by combining things such as adding task lighting into the floating shelves, and pot lights for your ambient lighting. All those things keep it sleek and modern as well.
We believe this room can be pretty personal.  With having to be a place of productivity, add in the amount of time you might be required to be there. It needs to be designed as a place you want to be in, for the times you might not want to.
1
|
2
|
3