Healthy Freshness
July 30, 2020
We've been cooking at home a lot more these days and having a functional kitchen space that works for you is key. It all starts with the design and falling in love with your kitchen. One of the trends we are loving right now is growing your own herbs and microgreens. While this used to be something you needed to do outdoors, there are all kinds of new indoor garden kits, fridges, and mini-greenhouses to help you up your freshness game in the kitchen!
Here are four different examples of gardening inside, starting from smallest to largest.
There are a lot of companies that have started and created small indoor garden kits where they can sit on a window ledge and be watered only once a week and sometimes even longer. The technology allows even a non-green thumber to keep a hand full of herbs alive and thriving. Just check how much light is needed for what you plan on growing. The best system is one the one you are going to use, so it might be best to pick the least complicated.
The next big step up from having a garden grow on a counter or a windowsill is… under it? Yes that would be the undercounter fridge designed for your herb & microgreen needs. A lot of appliance companies have joined in on this Urban Garden product and we will only see more of them. Water, light, and temperature, everything you need is controlled with a few simple buttons. Set it and forget it.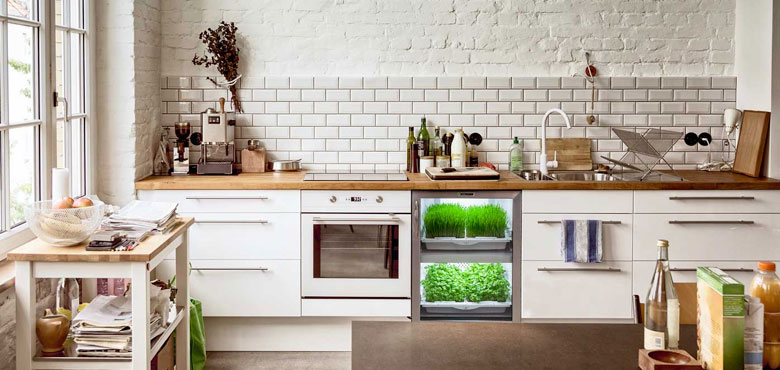 Those are all fun and games but when you wanna make a statement about how healthy you are and how serious you take it, go bigger of course. A non-circulating water supply system distributes the right amount of water for each plant type and prevents algae growth. This fridge takes into account the best outdoor conditions by matching the temperature in the cabinet with the time of day. Large enough for full heads of lettuce and up to 24 seed packages.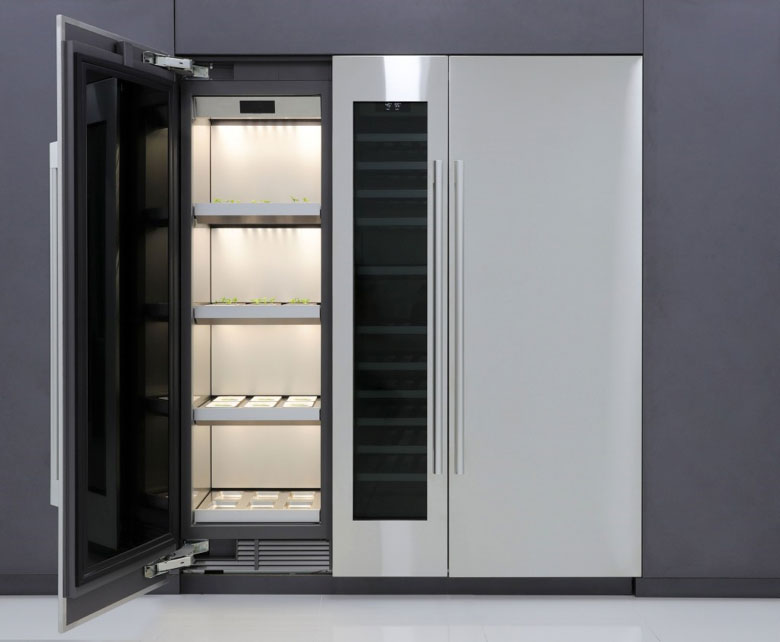 These last two solutions to urban gardening will take some planning with not only where in the kitchen to reside but also electrical and plumbing hookups.  After that you get to reap the benefits of easy, fresh, healthy food, grown straight from the kitchen.
1
|
2
|
3