Hidden Functionality
July 31, 2022
In any kitchen storage and functionality are always top priorities. Designers are often asked to maximize those features while also delivering clean lines and uncluttered surfaces. This common ask has inspired designers to look for ways to build functionality in fun and unique ways. This week we are exploring a few of those "hidden surprises" as they relate to enhancing the way your kitchen looks and also functions.
The Perfect Pantry
Hidden behind tall cabinet doors is a space perfect for prep with all of your pantry staples at your fingertips. Maximizing the space was essential so the designer added door organizers, drawers, shelves, and even a countertop workspace to really make the most of this small pantry space. The natural wood is also a nice touch to add warmth and contrast from the white cabinets of the main kitchen and the frosted glass doors help keep things hidden away so that visually there is continuity in the flow of the cabinets. This space could also be used effectively for a coffee station, toaster, or even a stand mixer. The possibilities are endless!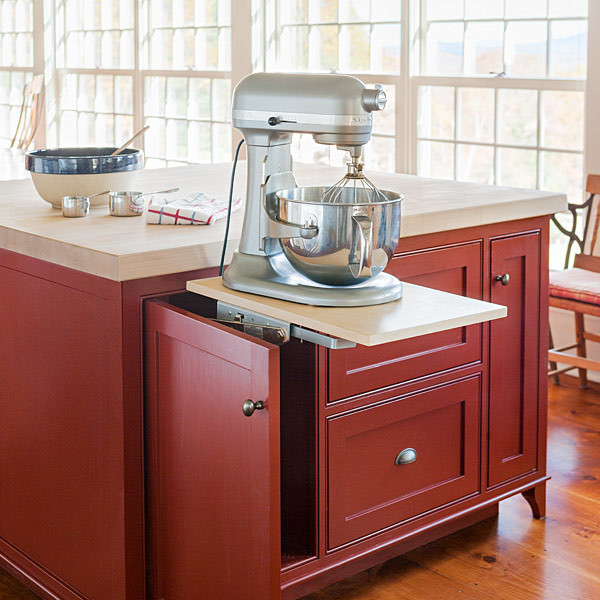 The Bakers Bonus
If you are someone who loves to bake, having your stand mixer ready to use is essential. The downside is always that they are large countertop appliances and do take up a lot of space. This designer solved that problem by creating a fold-away pop-up counter complete with power that tucks away as easily as it appears. This is a great effective use of space within the island and makes for an exciting reveal when the mixer just appears as if out of nowhere!
Double Drawers
This unique idea to maximize drawer space allows you to store larger items and still have a separate drawer for smaller items or utensils. The duality of this design increases its function and storage making very good use of the space.
When thinking about how you want your kitchen to function for you, considering these types of unique solutions can be game changers in maximizing efficiency and space.
|
|