Hot Hot Heat
June 30, 2021
If you are in western Canada this week there is really only one thing on your mind… the heat! It's hot, the only time we've experienced this type of humidity and heat comes with an umbrella, sand in our toes, an ocean breeze and a heavy dose of blended drinks. This blog is going to be about heat and only 3 of the many things that come to mind when we think about it in designing with that in mind.
First thing that comes to our minds is flooring. Sounds a bit weird but when designing a house you should think about passive solar design, naturally absorbing heat like a sponge during the day and releasing it at night, allowing less money and energy to be put out in traditional heating and cooling. You want to look at products that have high heat retention like, concrete, brick or stone, and tile.
Ovens, cooktops and ranges create and release a lot of heat. I know this week we are avoiding using it, but sometimes that's not an option. Luckily these days there are a lot of options, traditional wood cabinetry hood fans to cover the mechanical workings. Beautiful modern hood fans that can be a statement piece. Over the range microwaves and even downdraft pop up fans for the technology enthusiast. Managing the heat and the oils that come off from cooking is pretty important especially if you don't like cleaning grease off all the items sitting way up high, on top of your cabinets that you never use.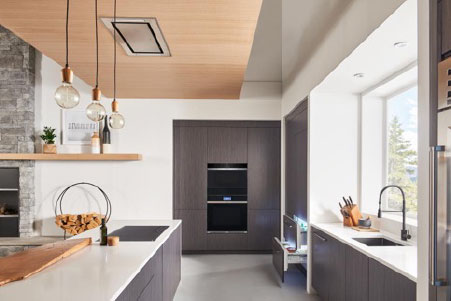 We personally love the smell of a great campfire. Sometimes you can't have that in your house so we have alternatives like gas and electricity. No matter what you are able to use, a mantel is still an amazing piece of design that gets noticed. From traditional wood carved, the trendy raw edge wood slab, or a metal cladding of sorts like copper. Mantels also allow your personality to shine by way of what you decided to place on it. I know ours is a combination of books, art, travel souvenirs and wedding pictures.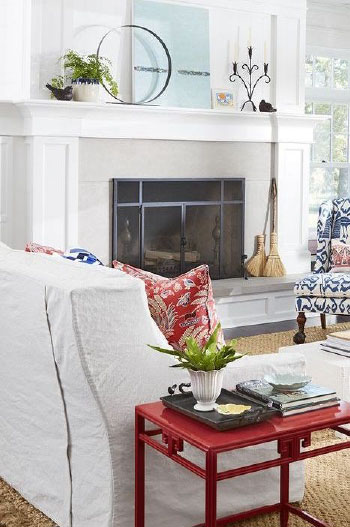 With all this heat talk,  let's not forget to stay safe and hydrated.
1
|
2
|
3