Two-Tone Kitchens We Love
August 18, 2016
If you're looking to add some wow to your kitchen project, you might want to consider opting for two tone kitchen cabinets. The two tone kitchen trend isn't a new one, but it definitely isn't going anywhere any time soon. This is because using two tones of cabinetry can highlight your kitchen's best features or help to distract from it's less favourable ones. It can add contrast and design interest as well as incorporate multiple finishes to tie a space together.
Here are a few two toned kitchens we've worked on in the past that we love. Which one of these is your favourite?
Below: For a bit of a softer look, a light grey is just beautiful. We adore this space. The island is a strong enough contrast that it stands out without being so dark that the overall light and airy feeling of the kitchen is compromised.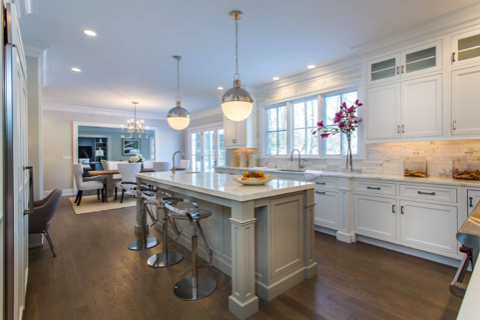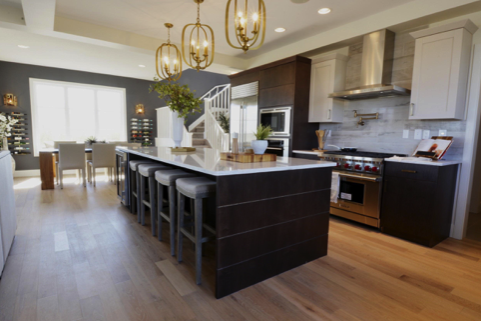 Above: Again we see here a darker island but this kitchen has a bit of a twist. Most often contrasting cabinets will be seen with either a darker island or darker lower cabinets and lighter upper cabinets. In this kitchen most of the cabinetry is dark, with only two upper cabinets in a lighter tone. These cabinets were finished in a color similar to the backsplash so that visually, they almost disappear next to the backsplash and hood fan. Doing this opens up the space and makes it feel larger by tricking the eye. What do you think?
Below: If you're a fan of color but not sure if you want a whole colored kitchen (like this red kitchen!) then why not opt for a colored island. By going bold with only the island the impact is still striking but doesn't overwhelm the whole room plus, you're less likely to tire of the color.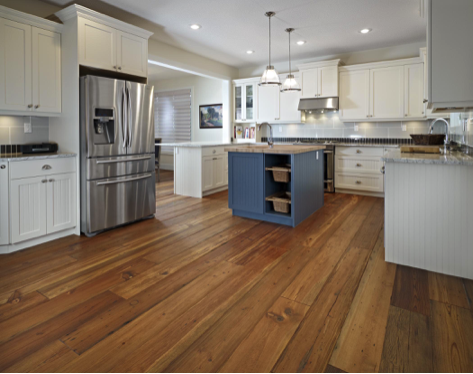 So there you have it, just a few inspiration photos of some of the gorgeous two tone kitchens we've completed. If you're contemplating a kitchen or bathroom reno, we'd love for you to stop by and speak with one of our qualified design professionals. We hope to see you soon!