Unexpected Ways to use Walnut
April 12, 2017
A trend you have probably seen rising in interior design over the past few years is the use of walnut in millwork, finishes and furniture. Walnut is a warm wood that is both soft and statement making. Although often associated with modern design, walnut works just as well in a transitional and even traditional kitchen setting, let us show you.
Flat panel and cool toned walnut is beautiful in a modern kitchen. We're used to seeing walnut paired with white cabinetry for a modern look but black can be just as bold and beautiful. Flat panelled cabinetry paired with matte black is an unexpected combo that we're loving right now. Walnut and black is the new modern! What do you think of this twist on the modern way to use walnut?
Luxe walnut works beautifully in a transitional kitchen. You can see here that the warm tone creates a space that has the warm and inviting feel that we often associate with more traditional spaces. However, the clean lines floating shelves add a bit of a modern feel to the room. For those struggling for a more contemporary look without going fully minimal and modern, this kitchen shows how to do transitional modern just right!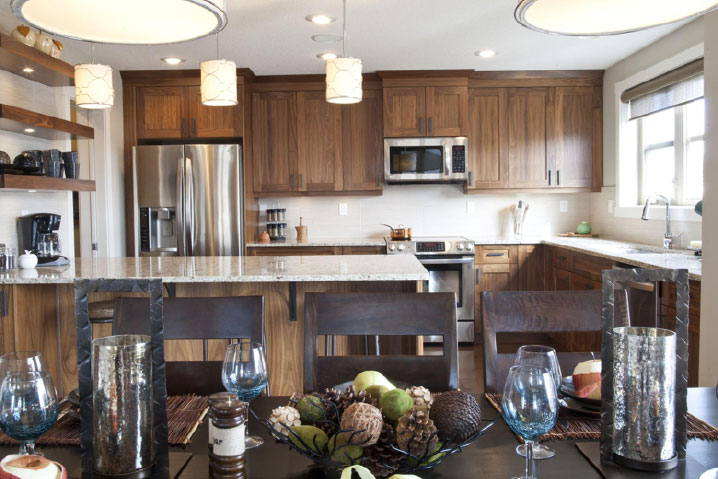 Lastly we wanted to show how to do a muted walnut in a slightly more traditional setting. Typically, the soft muted walnut is used in more modern kitchens but this space shows exactly how to create a mix of modern material done in a traditional way. The cream cabinetry keeps this kitchen feeling spacious and open and allows for the contrast of the walnut to really make a statement. Take a look at all of the detailing in the island and hood fan – these details make the difference and create a beautiful kitchen we know we'd love to get cooking in! What do you think?