Wallpaper Backsplash
June 30, 2020
When we think of wallpaper, it is typically a vibrant, and unique way to add personality to a space. If you grew up in the 1970's or 80's wallpaper can be a triggering word, as it evokes memories of tired, dated, or worn out spaces. Thankfully a lot has changed when it comes to wallpaper in the last 40 years, and despite those past feelings it can be used as the focal point in a room. It goes without saying, that your cabinets make up a good deal of the style, mood, and general vibe for your kitchen space, so when it comes to wallpaper what we have to keep in mind is to not completely overwhelm the senses and not overdo it. That means picking the right wallpaper, choosing how much of it, and where and how it is arranged.
As we have alluded to, wallpaper today is almost better in every single way. From how it is applied, to the materials used to create it, to the types of patterns and designs, and of course its availability and accessibility.
Once you have selected your wallpaper of choice, ensure your contractor also orders a reasonably thick cut tempered glass measured to the same size of space you covering in wallpaper. The glass will be installed overtop of the wallpaper and sealed around the edges with silicone to ensure it stays clean, is easy to wipe off, and maintains the original look you were going for. The other benefit here is that if you become bored with the pattern or design, it is much less expensive to remove the glass and re-paper, than to re-tile.
Here are some examples of kitchens we love:
The example above is a beautiful example of proportion.  The motif in the pattern centred between the shelf and the countertop and you don't see the large center cut off at any point from the top and bottom.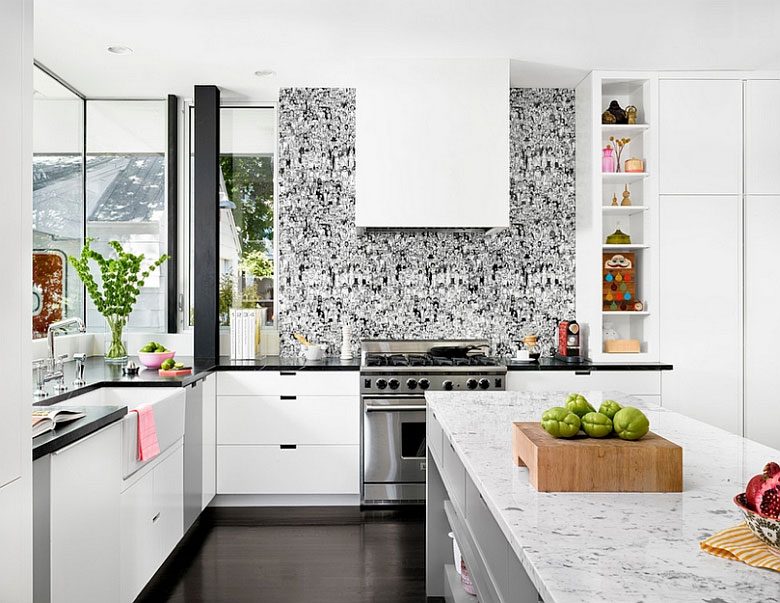 This kitchen would be completely different if it had more walls covered with this design, but because of the sunlight, glass, and cabinet color the amount of wallpaper feels in perfect proportion to the room. Not overpowering, just brilliant.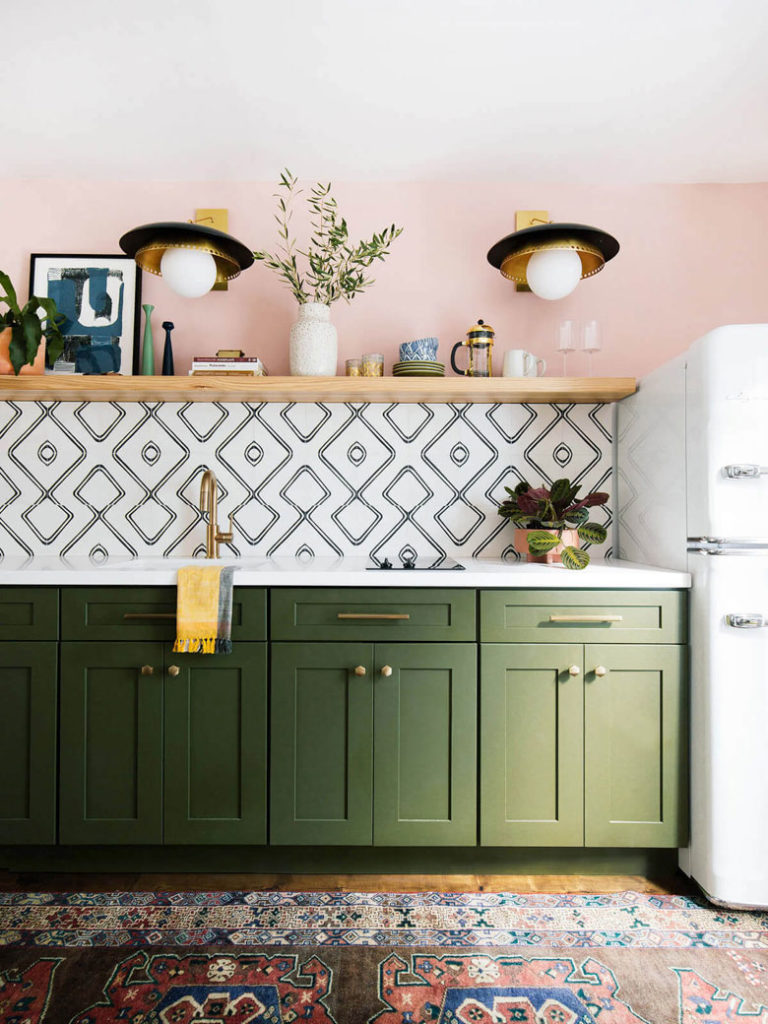 Much like the first one using a natural break in the room to select different finishes, with paint above the shelf and wallpaper below.  Just remember when using geometric lines and shapes, if it is not perfectly lined up it might look a bit distorted and look amateur.  So if in doubt hire a professional.
1
|
2
|
3