Why We Love Waterfall Countertops
May 16, 2018
When you're building or renovating your dream kitchen there are many design factors to consider but one of the biggest decisions to make has to be the choice of countertop. If you're looking to create a beautiful focal point in your kitchen, we're here to suggest opting for a waterfall island and tell you why…
A Waterfall Island Creates A Stunning Focal Point
Your kitchen should be both beautiful and functional and there's no denying that a waterfall edge creates a show stopping focal point in any kitchen. Whether your material is a simple white quartz juxtaposed with a rich wood island or a gorgeous marble or granite with veining that adds character, by showcasing a large slab of your stone of choice a waterfall edge is guaranteed to draw attention in all the right ways!
Say Goodbye to Scuffed End Panels
Another great benefit to a stone waterfall edge is saying goodbye to scuffed and scratched end panels! The end panel of most kitchen islands tend to take a bit of a beating between kids and pets, guests and entertaining it's easy for the wear and tear to take its toll. With a strong stone, you'll avoid those scratches and scuffs and have a solid surface that's easy to wipe clean!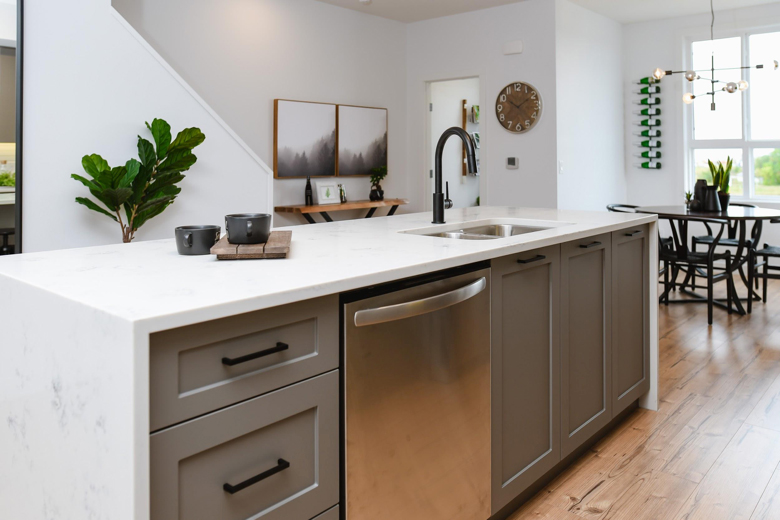 Say Hello to a Crisp, Clean Look
One of the benefits of a waterfall edge is the crisp, clean look the space gets once it's installed. Waterfall edges visually hide appliances and bring in a larger natural element which creates a more visually appealing space overall. The clean edges are minimalist and modern so if a more contemporary style of kitchen is your style, we can't recommend this kitchen upgrade enough!
For those in the Edmonton area looking for a kitchen renovation, make sure to stop by our showroom or get in touch to chat with one of our kitchen design specialists to find out if a waterfall island could be what your kitchen needs!