Herringbone Kitchen Backsplash
August 14, 2019
Let's talk a bit about backsplash tile in the kitchen today, shall we? Over the years we've talked about quite a few different kitchen backsplash tile options; from eclectic encaustic tile, and bold metallic options, to the more natural wooden look and other unique ideas. So, it was only a matter of time before we finally gave some attention to one of our favourite ways to use a simple but classic tile: through a beautiful herringbone tile backsplash!
The herringbone pattern is a classic design staple – whether for floors, kitchens or bathrooms, the herringbone pattern is timeless. In the past herringbone was typically seen as a more traditional pattern but as time has gone on, we've seen more modern takes on this classic pattern that we just love!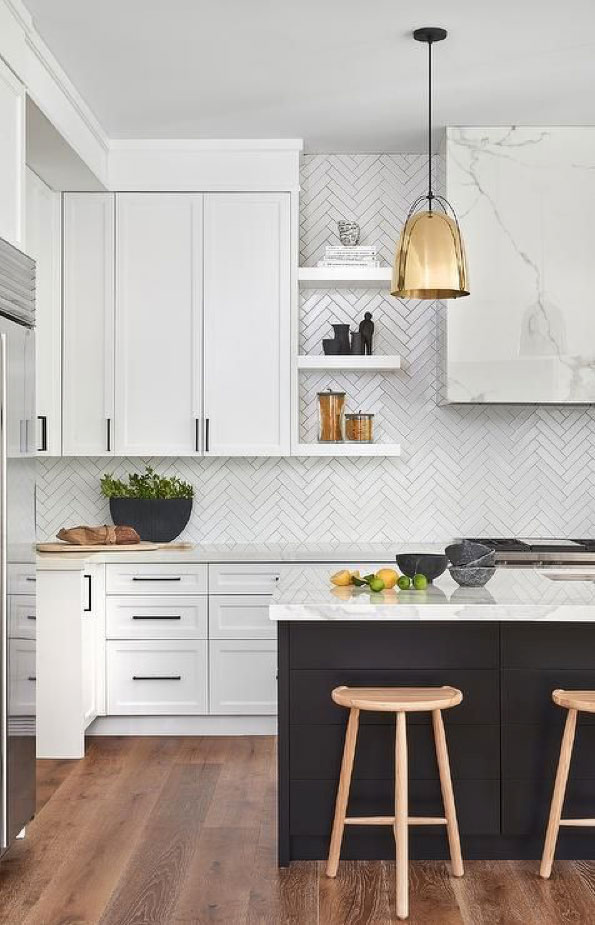 What's especially great about incorporating this interesting pattern into your kitchen backsplash is that although the cost of labour to install is a bit higher than some simpler backsplash options, the material itself is often very affordable subway tile. Whether you keep things simple with a classic white option, go bold with black or incorporate some fun texture or color – herringbone is a beautiful way to add great texture and some design 'wow' factor to just about any kitchen!
What do you think of this herringbone pattern as a kitchen backsplash? If you're considering a kitchen renovation or update, make sure to come by our showroom to chat with one of our kitchen design specialists to help you design the kitchen of your dreams!